Team Psych Triathlon Racing
TEAM PSYCH TRIATHLETES
OUR MISSION: Raise funds for charitable organizations and promote mental health wellness.
This year we are raising funds for Success 4 Kids & Families which provides counseling services for at risk teens, and TRIATHLON FOR TROOPS - which is our own program that gives a one year free membership to Active & Recently discharged Military and their Families in Tampa Bay. Out team looks forward to the 2015 triathlon season.

Click on the above link to view the current issue of Team Psych Weekly Magazine.
---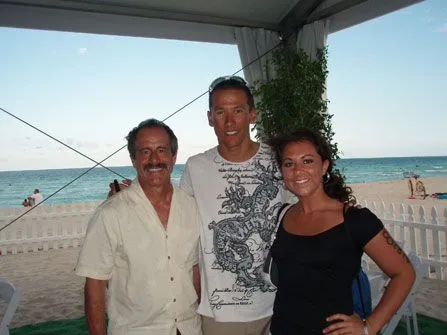 Photo Above: Seven time Hawaii Ironman champion Chris Mc Cormick poses with TEAM PSYCH athletes Nicole and Mark the evening before Nautica South Beach Miami Triathlon.
Photo above: Mark and Nicole posing with Michellie Jones, 2006 Kona Hawaii Ironman Winner and Triathlon Olympic Silver Medalist. Posing with Mark and Nicole in Team Psych T-Shirt after her win at Heartland Triathlon in Sebring Florida.


---
Below Photo of Michellie wearing Team Psych T Shirt given to her by us after her win
---