SEX THERAPY
Therapy for Couples and Therapy for Individuals
Comprehensive Evaluation and Targeted Treatment is our philosophy which helps us uncover the multiple factors leading to sexual problems, the complications that have occured since, and a current treatment plan to return to healthy sexual healing again.
Low Desire
Sexual Communication
Erectile Disorder
Premature Orgasm
Sex Avoidance
Sexual Desire Disorders
Sexual Pain
Orgasm Inhibition
SBD Kink
Sexual Fears
Sexual Identity
Sexual Identity Adjustment
Paraphillias
Fear of Sex
Sexy Saturdays Podcast produced by Davis Sound Mind on social media. Your sex questions answered by our panel of sex therapists and national experts. See our Podcast Video of our inaugural film below.
Watch our SEXY SATURDAYS Podcasts on social media
Many couples reach out to a therapist to help them with their relationship. Frequently the topic turns to their sex life. Very few therapists are qualified sex therapists. Fortunately Florida stipulates extensive requirements regarding the title of Sex Therapist. Get your SEX questions answered at Davis Sound Mind Sexy Saturdays Podcast.
SEX ADDICTION - SEX COMPULSION
TREATMENT PROGRAM
Here are some indicators of sex addictions: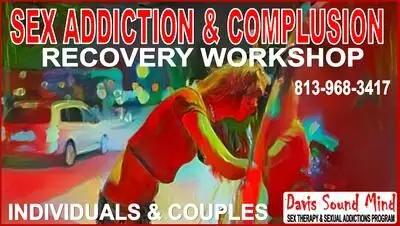 Porn Prostitution
Webcam sex sessions Nude Bars
Massage Parlor Sexting
Nude Picture taking Broken promises to quit
Compulsive Masturbation Loss of desire for partner
Multiple & Continous Affairs Blackmail threats
Our Sexual Addiction - Sexual Compulsion Treatment Program includes individual therapy, couples therapy, and sex addictions group treatment.
Among other areas of specialized training, over three hundred post graduate hours of Sex Therapy Training in Sexology attained since 1993. Continued education in this specialty as recently as this year keeps skills fresh and updated as to changes in the field. Tampa Sex Therapy Program includes individual, couples, and group therapy.